Saturday, June 16 2018 at 7:30 pm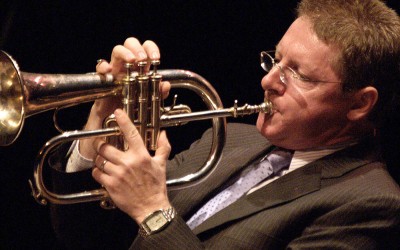 Pianist, composer, arranger and trumpeter Jeff Holmes is a nationally published and commissioned composer/arranger, and a multiple recipient of National Endowment For The Arts Jazz Composition Grants. He has written music for renowned jazz musicians including John Abercrombie, Max Roach, Sheila Jordan, Yusef Lateef, Rufus Reid, and the Tommy Dorsey Orchestra.
In addition to its impressive library of big-band standards and originals, the Jeff Holmes big band's repertoire will include a tribute to Leonard Bernstein, whose 100th birthday is being celebrated this year by many musical organizations across the globe. Bernstein's music touched all genres, from classical to pop, opera to jazz, and Hollywood.
The band features the outstanding vocalist Dawning Holmes. In addition to her work with Jeff's big band, Dawning has sung in jazz clubs from New York City to London, has guested with both Paul Winter and the UMASS Studio Orchestra/Jazz Ensemble I, and most recently opened for Bob Newhart at the Foxwoods Casino Theatre. She performs pieces made popular by Ella Fitzgerald, Etta James, Sam Cooke, Amy Winehouse, and is currently working on a project of her own original music and lyrics.