Friday, June 9, 7:30pm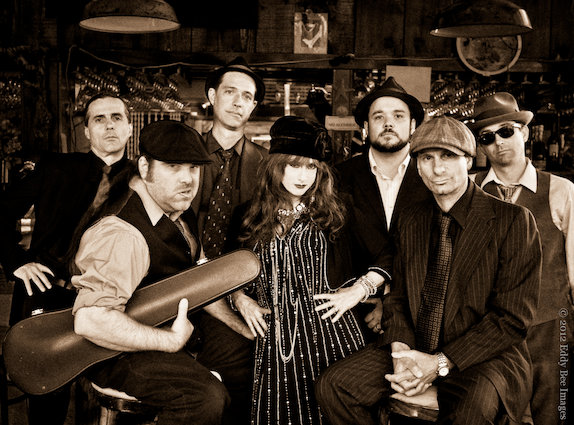 With her singularly enticing sound, few contemporary vocalists are as well suited to dustily vintage material as jazz-blues stylist Roberta Donnay.

–Jazz Times
The Berkshire Gateway Jazz Weekend kicks-off in grand style with a rare East Coast performance of Roberta Donnay and the Prohibition Mob Band.
Award-winning vocalist and songwriter Roberta Donnay is that rare species of musician who almost lives in another time, as she and her Prohibition Mob Band exist to revive the Jazz Age of America. Performing and recording for more than two decades, her music spans multiple genres, including writing for film and TV. As the leader of the Prohibition Mob Band, her repertoire runs the gamut of the jazz era, ranging from Louis Armstrong to Blossom Dearie, as well as her own original material.
The Prohibition Mob Band is a vintage jazz and swing band presenting 1920-1930s swing, blues, and roots music in the jazz tradition. The ensemble's mission is to explore, celebrate, and promote America's jazz roots by interpreting vintage material as well as contributing original works reminiscent of the Jazz Age. Roberta Donnay & the Prohibition Mob Band have been touring the U.S. since 2012. Their third CD, "My Heart Belongs To Satchmo," is devoted to the early music of Louis Armstrong, continuing the band's tradition of resurrecting both well-known and obscure vintage music. Previously, the group released "A Little Sugar" (2012) and "Bathtub Gin" (2015). "A Little Sugar" spent 9 weeks on the Jazz radio charts, and "Bathtub Gin" was named one of the Best Albums of 2015 by DownBeat Magazine.
Prior to forming the Prohibition Mob Band, she recorded with legendary producer Orrin Keepnews, and was a member of Dan Hicks & the Hot Licks. Her original composition "One World" was the official theme of the United Nations' 50th anniversary. It was performed for 188 delegates in 1994 and at the official celebrations in 1995. The song has been performed at several peace and international diplomacy convocations.
Roberta Donnay has a silky, clean voice that is a small marvel of geniality, rarely dipping into touchy-feely cuteness. She's drawn to material from the canon of American songs recorded between the two world wars. All the while, the well-groomed, jazz-inclined Prohibition Mob Band motors along spiritedly.

–DownBeat